Product Name And Tagline
16 words, 116 charachters
Scanner for Remote Desktop Scanner redirection software allowing to use document scanners in remote desktop session.
Short Description
45 words, 276 charachters
Scanner for Remote Desktop creates a virtual scanner on the server in remote RDP, PCoIP, Blast, ICA or NICE DCV session. Virtual scanner is mapped to your local hardware scanner allowing to use it with any TWAIN or WIA-compliant scanning application running in remote session.
Bigger Description
92 words, 578 charachters
With Scanner for Remote Desktop now it's possible to scan documents within your remote desktop environment from your locally plugged scanner. It makes all local scanners accessible in remote desktop session. The program creates a virtual scanner on the remote side. The virtual scanner is mapped to the hardware scanner plugged to your local PC, thin client or even tablet. So this makes possible to use hardware scanner from any TWAIN or WIA-compliant scanning application running in remote Microsoft RDP, Citrix ICA, Amazon NICE DCV, VMware Blast and Teradici PCoIP session.
Large Overview
880 words, 5730 charachters
Overview Scanner for Remote Desktop is a software that provides a convenient way to scan documents within a remote desktop session. It allows secure redirecting of image scanners over Microsoft RDP, Citrix ICA, Amazon NICE DCV, VMware Blast and Teradici PCoIP to individual remote desktop session without any headache. How it works The solution consists of the Workstation and Server parts. The Workstation part should be installed on the local side, like PC, thin client or tablet. The Server part goes to the remote side. As soon as both parts are installed, Scanner for Remote Desktop creates a virtual image scanner on the remote side and the operating system detects it as a hardware equipment. Virtual image scanner is actually connected to the locally plugged hardware scanner. So you can access your hardware scanner from any remotely hosted image scanning application. TWAIN, WIA and ISIS scanning Scanner for Remote Desktop can be used with any TWAIN-compliant software, like Adobe Acrobat Pro, Nuance PaperPort, QuickBooks and many others. Virtual TWAIN scanner allows to use all TWAIN 2 features, including support for check scanning. As for WIA, Scanner for Remote Desktop is the only solution allowing to perform document scanning for WIA-based applications (Windows to Windows configuration only). Moreover, there is a possibility to create virtual ISIS scanner if your software requires this. It will be mapped to your local TWAIN scanner (or SANE in case of Linux). Secure and separate access In case of multi-user environment (Windows Server 2008, 2012, 2016), if there are more than one user logged in to the remote side, each image scanner is isolated within its individual session. So you don't need to worry that somebody else will get access to sensitive data. Each user can see only own scanners within the remote session. It's not needed to scroll through the list of devices of other users to find your scanner. Scanner for Remote Desktop scans directly from the hardware scanner without establishing shared folders or any other workarounds. Scanned images are not stored neither on the server nor on the workstation. Driver-less scanning solution Scanner drivers are not required on the remote side. It's not needed to install any drivers on the remote side every time you plug in a new scanner (new scanner driver installation requires administrative rights and can be a headache for your system administrator). Remote desktop protocols in different environments Scanner for Remote Desktop supports different remote desktop protocols including Microsoft RDP, Citrix ICA, Amazon NICE DCV, VMware Blast and Teradici PCoIP. It does not matter what environment is used (Microsoft Azure, Microsoft Terminal Services, Citrix Virtual Apps and Desktops service (formerly XenApp and XenDesktop), VMware Horizon View, Amazon Workspaces and others). Any compatible Client software can be used for accessing remote side. And there is no need to change firewall settings. Scanner auto-selecting It's not needed to manually choose a scanner for redirecting to your remote desktop session each time. The last scanner plugged into the local side will get redirected to the remote session once you are logged in. This is particularly convenient for those who login to their remote sessions from different locations – the software simply connects the proper scanner to your remote desktop automatically. Fast scanning with great quality Scanning speed is really high thanks to immediate sending of scanned data to the remote side without waiting for the scanning process to finish. In the case of slow network connection, lossless compression can be enabled to speed-up scanning without losing quality, or lossy compression for even faster scanning. What about other OS? If you are looking for solution for Linux or macOS you have already found it. Scanner for Remote Desktop works perfectly in macOS and most distributions of Linux operating system.It includes plugins for FreeRDP, Citrix Workspace app, HP Anyware PCoIP Client, VMware Horizon Client and Amazon WorkSpaces Client. Azure Virtual Desktop compatible Scanner for Remote Desktop, as well as other FabulaTech solutions, is fully compatible with Azure Virtual Desktop and makes it possible to access local scanners from applications running in Windows Virtual Desktop. Double hop session support You can connect from your workstation to remote Server 1. And then initiate a connection to another Server 2 session from Server 1.The device will be accessible on Server 2 without any additional configurations. Seamless mode support Scanner for Remote Desktop works perfectly in seamless mode. It is easy and convenient feature which allows to connect your local scanner to the remote scanning application running in seamless mode. Support for wide range of scanners The program supports all TWAIN and WIA compatible scanners, regardless of what interface they use. Moreover, it's possible to use webcams, digital cameras, card scanners and even digital X-ray machines and digital microscopes as input devices in remote desktop session. Ready for Enterprise For large installations, it's possible to configure the program via Group Policy allowing to pre-set needed settings or even disable remote scanning for specified users. OEM License Benefits Scanner for Remote Desktop functionality can be easily integrated into your application. So you allow terminal server users to access local scanners in remote Windows session. Read more… And Even More… Defaults and templates support. Zero configuration is required. Works with any virtual machines. Mixed 32 and 64-bit environment. Single-user and multi-user environments support.
Product Graphics
Scanner for Remote Desktop Icon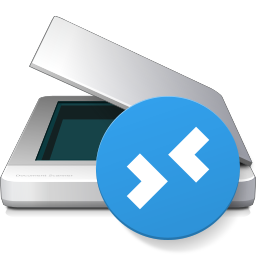 Scanner for Remote Desktop icon, large

Scanner for Remote Desktop icon, small
Scanner for Remote Desktop Screenshots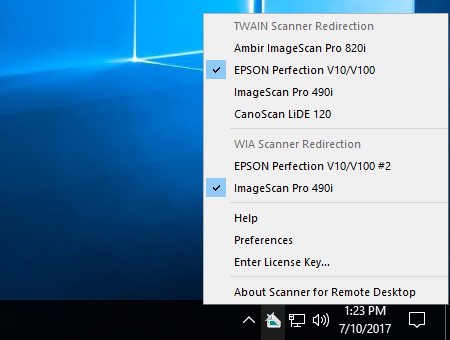 Tray menu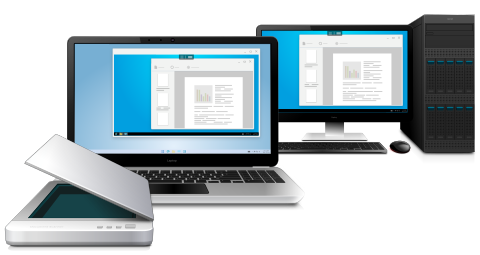 Infographics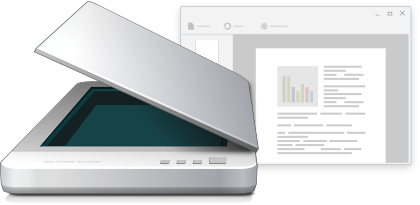 Infographics
Product Links